Sellers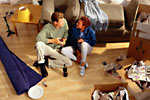 It doesn't matter if it's a "Sellers' Market" or a "Buyers' Market". There's always a fierce competition among the houses on the market for those ever-so-few qualified buyers who are out looking. My success in becoming one of Mahoning Valley's Leading Realtor® is due to my Proactive Marketing Plan which really gets results. Since more than 85% of home buyers start their search on the Internet, I've developed a Comprehensive Internet Marketing Strategy designed to get your home SOLD! In addition to being syndicated out to over 750 different websites, your home will be presented on www.howardhanna.com which is one of real estates most exposed sites, to create the highest buyer traffic and appeal.
The decision to sell a home is often dependent on many factors. Whatever your reasons are for selling, my proven effective marketing strategies will ensure that you get the highest possible price for your home. I guarantee to provide you with professional, ethical and confidential service and keep you fully informed every step of the way.
Buyers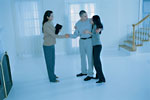 When looking to buy your dream home, it's in your best interests to get the best representation possible. I will provide the expertise and professional consultation necessary to give you a decided advantage in your home search.
There is NO CHARGE for this service but it is PRICELESS! You are on the Internet now doing home searches which is great. When you narrow your search or just want some professional perspectives on some of the homes, call me to preview these homes or to discuss how to proceed towards moving day. I look at homes constantly and probably have been in the homes you're considering. Also, I will have information on homes that are about to come on the market that just might fit your criteria. I can help you get the first opportunity to see your dream home before all of the other buyers looking for the same dream home.
Relocation Services
I specialize in both corporate and personal relocations. My experience and expertise in this area results in smooth, stress-free moves while handling all of the details.
I have a full service relocation approach from initial consultation to professional representation through to the final moving day with all of the details being handled. I do this all the time . . . and I am very good at it.